Consistent, Full-Line Automated Mulch Bagging Solutions
08/21/2019
---
Some people may not see mulch as a huge seller in the lawn and garden market. But America spends an estimated $1 billion annually on what is basically waste material to spread or lay over the surface of soil as a covering. Why not splurge, given that mulch can cost as little as $2 for a bag weighing 30 to 40 pounds?
At that price, the baggers providing the mulch to wholesalers and retail stores must have an efficient operation in order to turn a profit. Which is why so many mulch suppliers turn to the nVenia team for their bagging equipment. Our full line of machines for bagging mulch, soil, peat and like materials affords the most consistent production available – across the entire production line.
Tell Robots to Do Heavy Lifting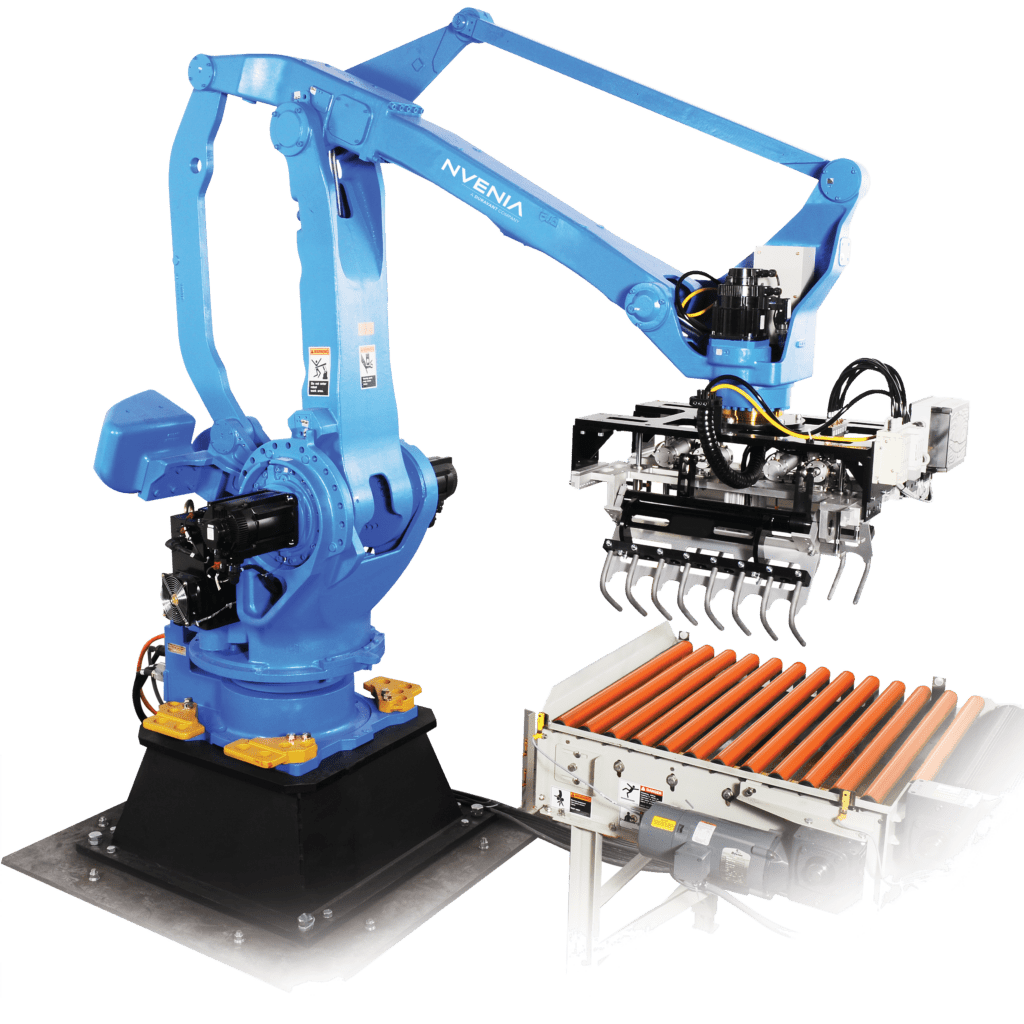 Robotic palletizers have become a boon to bagging operations. They need very little maintenance while running dependably day in and day out. nVenia has partnered with Yaskawa to produce robots offering a mean time between failure of greater than 17,000 hours - that's about two years of nonstop operation.
Robots work fast too, placing typical 40-pound soil or compost bags at a rate of 22-24 per minute. For a typical 2 cubic foot mulch bag, expect rates of 17-18 bags per minute. Pallets stacked no higher than 70 inches can provide even faster rates.
When our team launched our partnership with Yaskawa more than a dozen years ago, we set out to offer the significant benefit of robotics while also making palletizing systems easy to run. The centerpiece of that idea is our easy-to-use control panel and program interface, featuring a touch screen that makes learning and using the palletizer a breeze.
We offer broad experience in the lawn and garden industry and know the demands the industry faces. Your pallets will stay tall and straight as a testament to the experience we've gained!
One Versatile Machine that Handles Any Feeds and Fills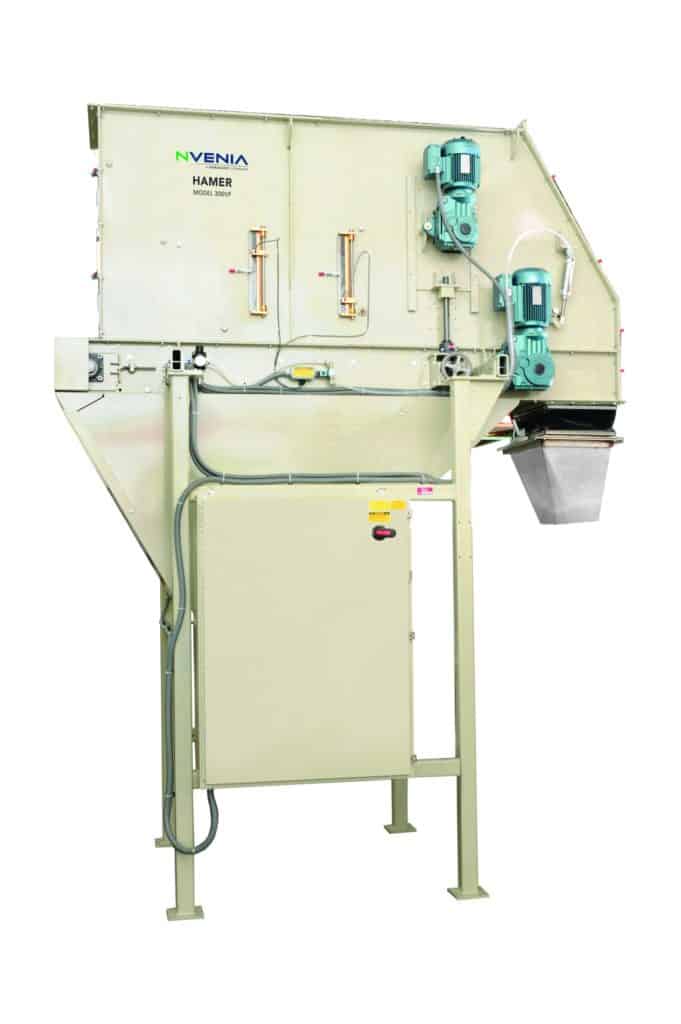 The wide variety of mulch types sometimes creates numerous challenges for fast, accurate feeding and bag filling. This has led many equipment manufacturers to build different volumetric baggers for various applications. But the nVenia HAMER Model 300VF can handle them all; delivering one machine, to manage many kinds of lawn and garden products.
No matter if you're bagging mulch in the form of shredded bark, wood chips, shredded rubber tires or any other material such as grass clippings, you'll get accurate, repeatable dosing. The Model 300VF's unique leveling wheel makes the managing of feeding and bagging easy. Separate VFD drivers control the leveling wheel and feed belt, so that you can set rates for your product and your product alone.
Improving Uptime and Production Throughout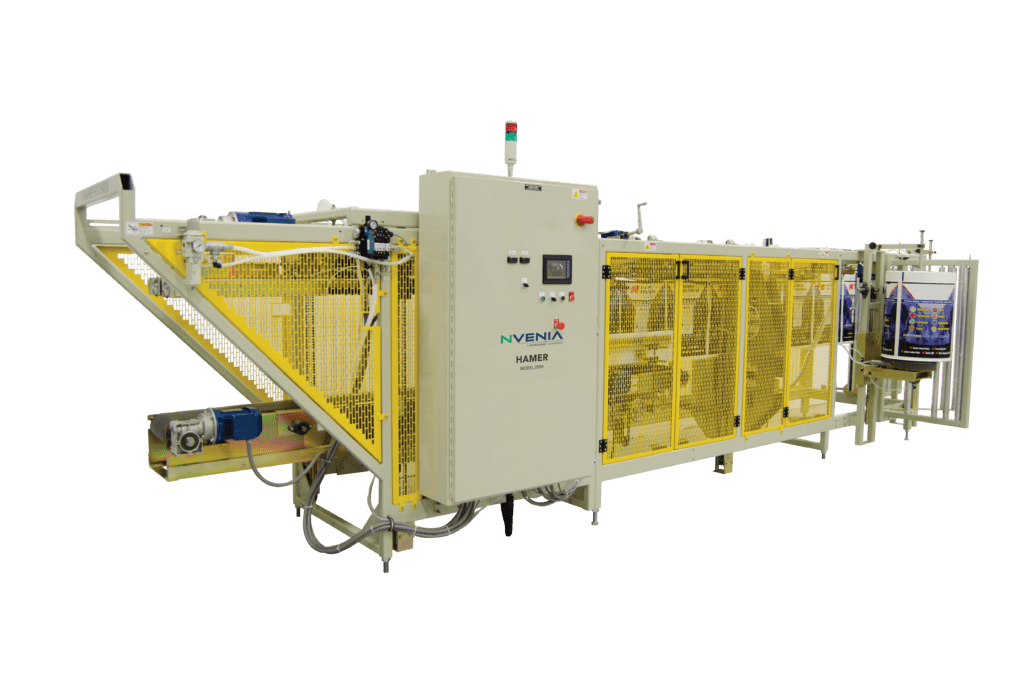 What makes a machine run longer and faster? That's easy, reducing operator interaction. The nVenia HAMER Model 2090 HFFS does just that, bringing Horizontal Form, Fill and Seal packaging up to 34 bags per minute. With a streamlined belt path to easy bag size changes, the operator has far less work to keep this machine making you money. The exclusive double-sealed, self-cleaning pulley design requires no adjustments and keeps contaminants away from the belt path bearings.
---