FISCHBEIN Brand Industrial Sewing Thread: Specifications and Accessories
04/05/2019
---
Industrial sewing thread from nVenia's FISCHBEIN Brand is specifically manufactured for bag closing applications that include multi-wall paper, woven and laminated woven polypropylene bags.
Designed to eliminate down time and keep your production line up and running, FISCHBEIN Brand thread is compatible with most competitive brands of bag sewing equipment. One hundred percent polyester fiber, and resistant to UV light and ambient moisture, FISCHBEIN Brand industrial sewing thread comes packaged in 8 ounce, 5 pound, 15 pound, and 20 pound cones and is available by the case and pallet.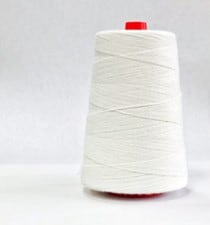 Product Specifications:
100% polyester
Polymer melts at 500 degrees Fahrenheit (260 degrees Celsius)
Lubricated and meets the human ecological standard of and is certified to Oeko-Tex Standard 100
Certified to meet or exceed the requirements set forth in the US Toxics in Packaging Legislation (TCPH) Standards
12/4 and 12/5 format
Diameter in.: 0.021
Other sewing head accessory products offered include sewing needles (fine point, square point, and round point), crepe tape, rotary knife kits, sewing head lubricant (available in synthetic and food grade), cleaning lubricant, and thread lubricant.
To order thread or other sewing consumables contact your authorized nVenia distributor or email us at Support@SupportPro.Pro
---