Soil and Mulch Producers Gain Huge Production Benefits with the HAMER 2090
08/10/2015
---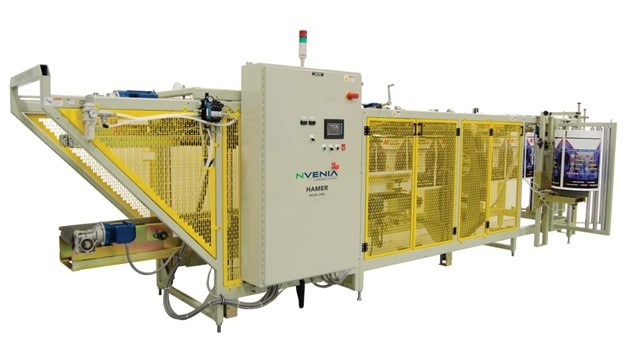 It's that time of the year when Soil and Mulch producers might think about an upgrade on their Form, Fill & Seal bagging machine in preparation for next Spring's Lawn & Garden retail season.
A few years ago, nVenia's HAMER Brand launched its next generation FFS industrial bagging machine, the Model 2090.
Every customer that has updated a previous model machine or replaced a competitive machine has seen first-hand why the Model 2090 leads the industry. Soil and Mulch producers gain huge production benefits.
The Model 2090 machine consumes approximately 60% less wear parts than competitive machines or early generation HAMER models. Parts costs directly correlates to downtime and maintenance costs. If you are replacing parts, you are not running! We aim to keep your machines running.
The new design of the Model 2090 reduces overall operator interaction, as more than 90% of the operator adjustments have been eliminated. No more "man standing by the machine."
Is now the time to consider an upgrade to the Model 2090? Contact our team today to learn how we can bring your bagging operation to your desired level of automation and efficiency.
---