Are You a Small Operator Looking to Increase Bagging Automation in Your Business?
03/26/2015
---
At nVenia, we get inquiries several times a week via our website about how we might be able to help a small operator increase bagging automation and productivity in their bagging operation.
Many of these operators are currently manually bagging their products, which are mainly seed, animal feed, minerals, fertilizers, chemicals and grains. For a business owner who is doing manual bagging and is looking for ways to increase automation in their plant, there are several areas to consider - and each has its own set of benefits:
Initial areas to consider to increase bagging automation: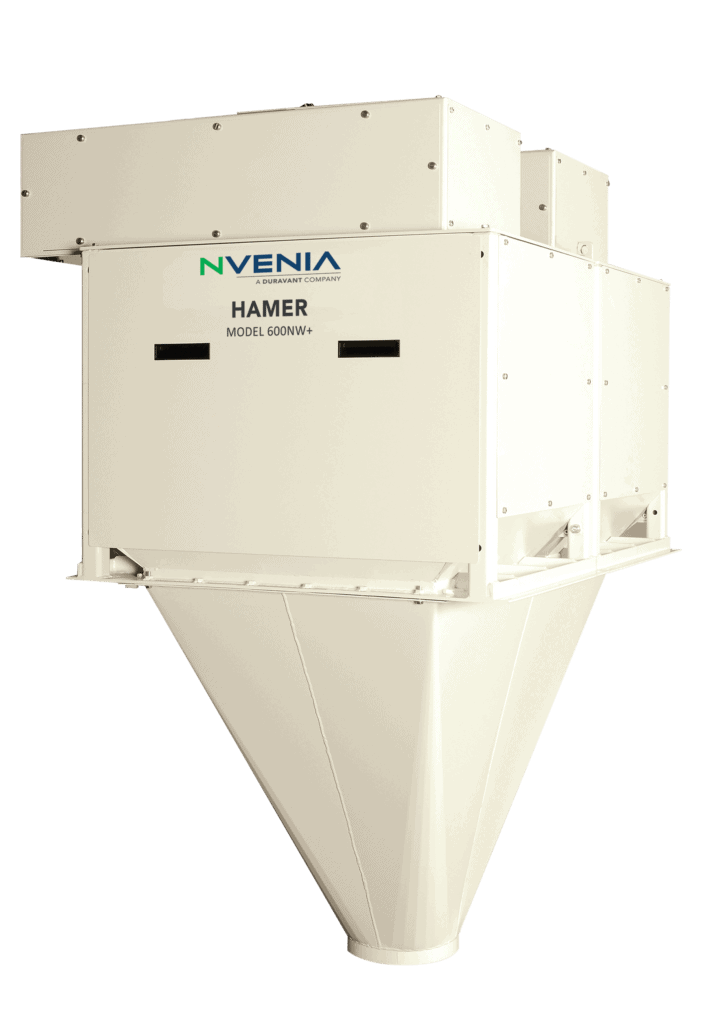 Gross Weigh or Net Weigh Bagging Scales – Consider improving your dosing/filling device to a larger, high-speed bagging scale (like the Model 600NW simplex or duplex) to increase speed and accuracy. The scale, although being the most over-looked component, is the heart of bagging profitability. Gain increased accuracy, repeatability and control over your dosing and knowing your product cost in every bag.
Bag Placement and Sealing is another area that can greatly impact productivity and the number of workers needed to perform these tasks.
nVenia's HAMER Brand has two types of machines that can increase automation in bag placement. The Model 1200BH Bag Hanger is for open mouth bagging and utilizes pre-made paper, poly or poly woven bags. This machine picks up a bag, opens it for filling and then releases it upright along a conveyor so that it can be fed into the bag sealer or bag sewing system. This is a semi-automated system that still requires that a worker feed the bags into the bag sealer.
The  Model 2090 horizontal Form Fill, & Seal machine is yet another step up in bagging automation. In this system, bags derived from poly film roll stock are formed, filled and sealed by the machine. This machine completely eliminates the "man standing" by the bagger. Labor required is limited to only when the roll of film needs to be replaced.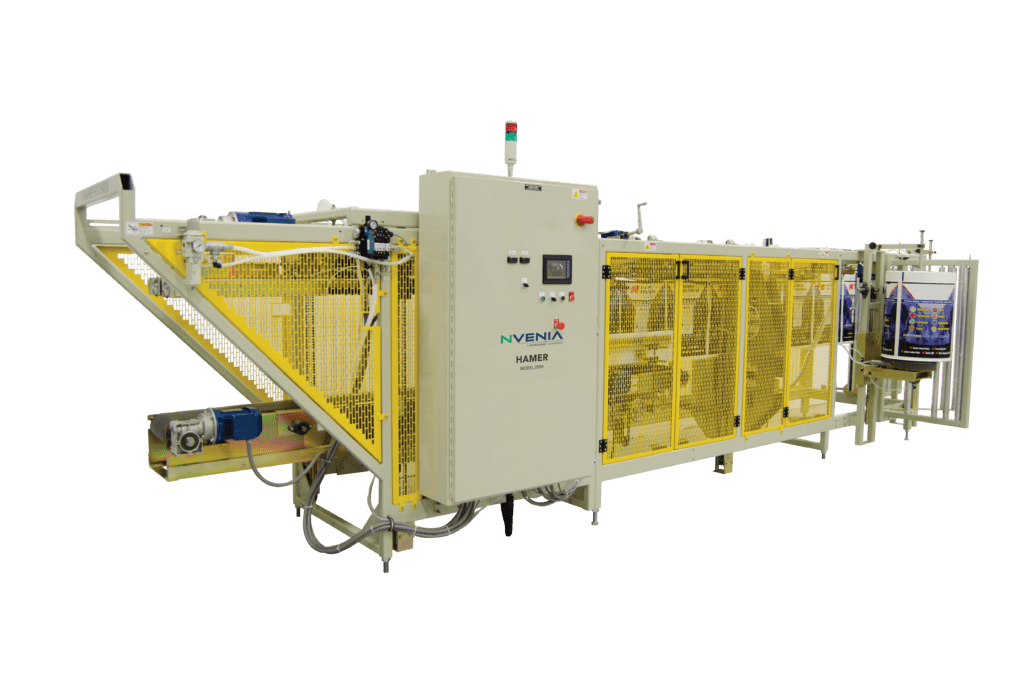 Conveying – A well planned out conveyor system is one that can help to minimize the labor to move bags from one part of the plant to another. They can also help to condition the bags to prepare them for palletizing. A flattening conveyor like the Model 5100 conditions the bag to prepare it for palletizing. A bag kicker, such as the Model 5200 Bag Kicking Conveyor, changes the direction of a vertical bag by kicking out the bottom. Or sometimes, you just need to move the bags from point A to point B, for which the Model 4000 Upright Bag Conveyor is a perfect solution.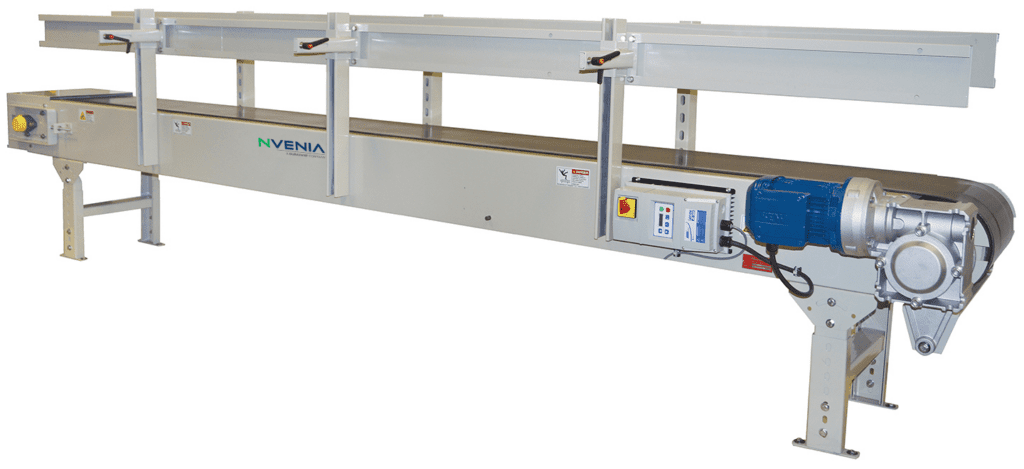 Palletizing – Automation in the palletizing area of your plant can make one of the largest impacts in productivity.
Semi-Automatic Palletizing System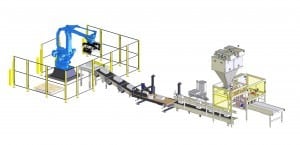 A Robotic Palletizer eliminates almost all labor related to palletizing; increasing the quantity of bags stacked per minute, as well as providing management with more predictability in their forecasting and production volumes.
A nice, tightly stacked pallet ready for warehousing or distribution is also a key benefit vs. stacking by hand. Our systems are easy to use, keep production numbers at a maximum, and provide 80% of palletizing automation at a lower cost than a fully automatic system.
Fully Automatic Palletizing Systems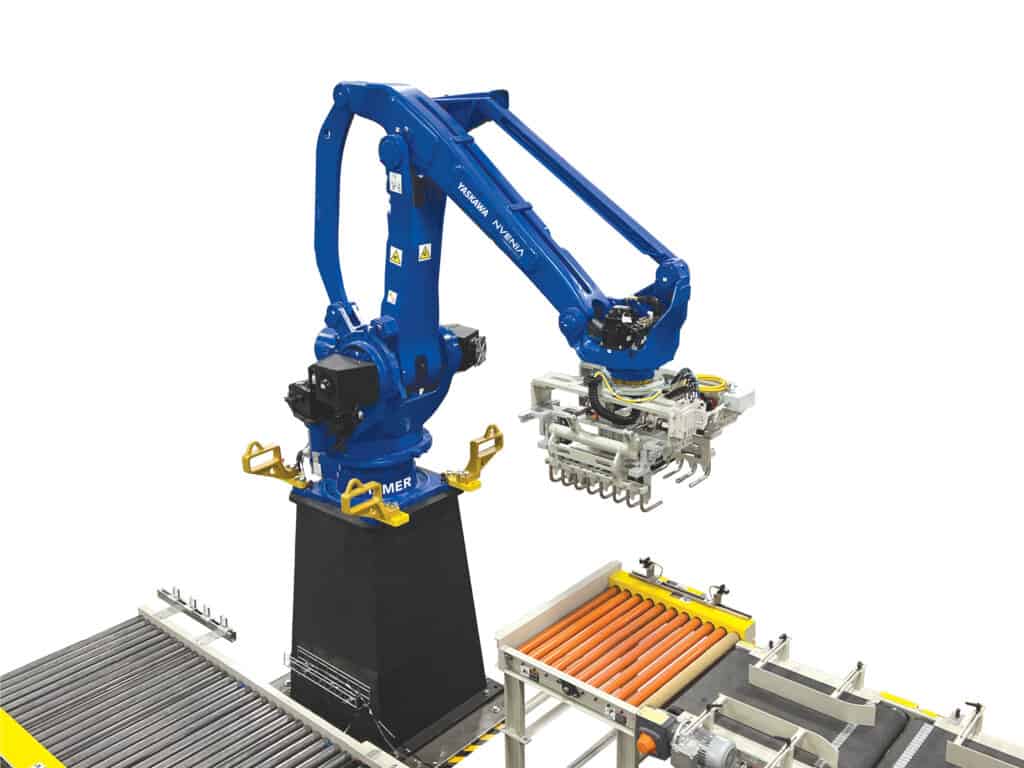 For those who require full automation in their palletizing operation, additional components such as a pallet dispenser and slip sheet dispenser that feed pallets into the robot palletizing area are integrated. Full pallet transfer conveyors then automatically transfer full loads into integrated wrapping or stretch hooding equipment.
Of course, increased automation has a capital cost for your bagging operation. Our equipment delivers an excellent return of your investment; delivering superb durability, fewer wear parts, and resulting in reduced maintenance and less downtime for your plant. The only true cost that you need to worry about may be the opportunity cost of not increasing automation in your bagging operation.
---