Aurora Products: Multi-Head Weigher Success Story
10/28/2015
---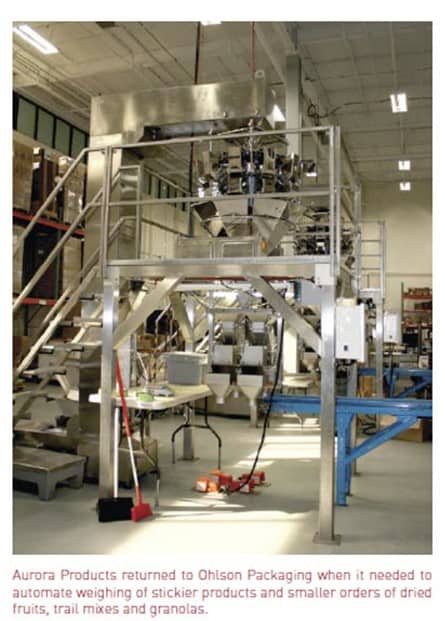 Aurora Products in Stratford, Connecticut, roasts its own nuts and mixes its own trail mixes. No preservatives, artificial colors or additives are used in its All Natural and Organic dried fruits, nuts, trail mixes, salad toppings and granolas.
That variety of products makes it difficult to fully automate their packaging operations.
"The physical properties of our items are varied, meaning, whichever machine we choose must have a broad handling ability (i.e., more expensive)," says Matthew V. Blackwell, vice president at Aurora.
Rather than abandon the idea, Aurora decided to explore ways to partially automate portioning and weighing, one of the most labor-intensive areas of its operations.
"Aurora was utilizing both full automation and almost completely manual processing, depending on the order size and item being packed. The fully automated machinery is only really effective with dry, fast-moving items such as cashews, almonds and peanuts. It is not effective at packaging dried fruits, trail mixes or granolas. As a result, much of this product was being packed by hand."
Since Aurora already ran various configurations of linear scales from nVenia's OHLSON Brand, Blackwell explained he needed a scale system that had the ability to measure a range of masses and then dispense accurately into an indicated chute, depending on operator input.
"I presented [nVenia's OHLSON team] with the challenge and they designed a system that would meet it," Blackwell says. "The quote came in and was reviewed, along with the proposed solution, against the competition. Ultimately, Ohlson won the bid."
In three months, OHLSON built a 10-head Multi-head Weigher with a bucket elevator and floor hopper. "The machine was assembled in one day," Blackwell reports. "Training was quick and easy as the panel is very similar to what many of our machine operators are used to with other OHLSON-branded machines."
Installation specs provided by OHLSON also simplified startup. With the specs, Aurora was able to prepare the space and run air and electrical lines. Once installed, the system was an immediate success.
"The machine was intended to replace just the hand filling and weighing part of the process," says Blackwell. "The machine has the same output as four to five skilled operators. Of course, we need about three operators to run the machine properly, so real-world throughput/production increase is about 50 percent."
The pleasant experience working with OHLSON is not the only reason Blackwell foresees additional collaborations down the road.
"I enjoy working with [nVenia's OHLSON team] because they're able to come up with unique engineered solutions to my packaging problems," he says. "I have the opportunity to speak directly with the designers and engineers, and they take my input into consideration. The process is smooth and machine operation is reliable."
---