Maximize Aggregate, Coal, and Chemical Packaging Process with Extreme Duty Model 3100 FFS
01/19/2018
---
The nVenia HAMER Brand Model 3100 FFS represents the most durable design in extreme-duty, large format, industrial horizontal form fill and seal machines. Built specifically for harsh plant environments, the 3100 FFS is the perfect solution for a range of abrasive and corrosive applications including aggregates like sand and concrete, minerals like coal, and chemicals like fertilizers.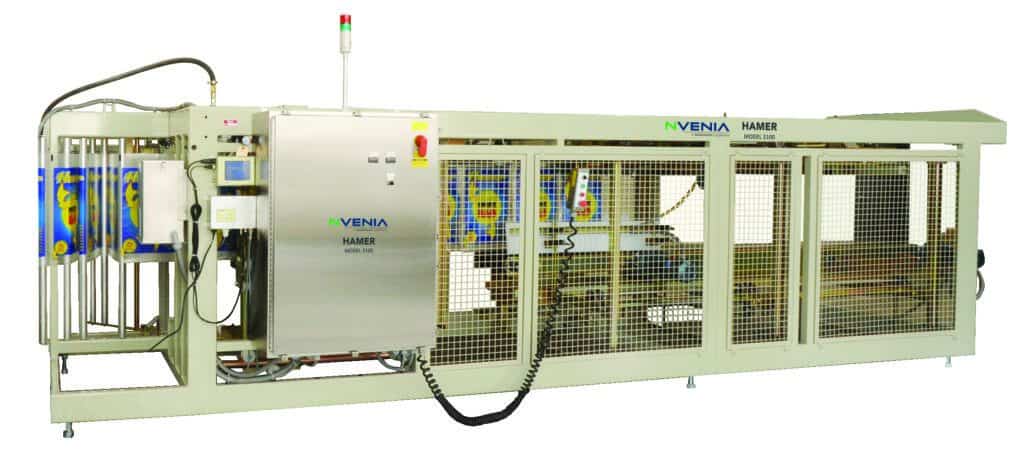 The Leader in Extreme-Duty Industrial Form Fill & Seal
A robust construction sets the 3100 FFS apart as the toughest industrial offering in its class. Every component is designed for long operating life in the most demanding plant conditions – from a 6" structural steel powder-coated frame to a ½" plated steel side assembly.
A proprietary belt path design ensures positive film grip and less potential for jamming and downtime. Double sealed, self-cleaning pulleys reduce wear by preventing abrasive and corrosive elements from contaminating sealed bearings. Reduced moving parts means minimal maintenance and more consistent running times.
Engineered with operator goals in mind, mechanical adjustments can be made using simple external hand controls, allowing a wide variety of bag sizes to be run with fast changeover times, increasing bagging rate throughput.
The proven form fill and seal machine for extreme duty applications, the 3100 offers high speed, minimal downtime, durability, and can be utilized as a stand-alone packaging machine or as part of a fully automated line.
For more information, or to request a quote, contact us today.
---