APPA Fine Foods: A Frozen Foods Success Story
10/13/2015
---
Success often spurs change.  At APPA Fine Foods in Corona, California, a manual operation could no longer achieve the productivity needed for an expanded line of individually quick frozen (IQF) pre-cooked meals.  Dinners like the Szechuan Chicken and Noodles involved multiple ingredients in multiple bags.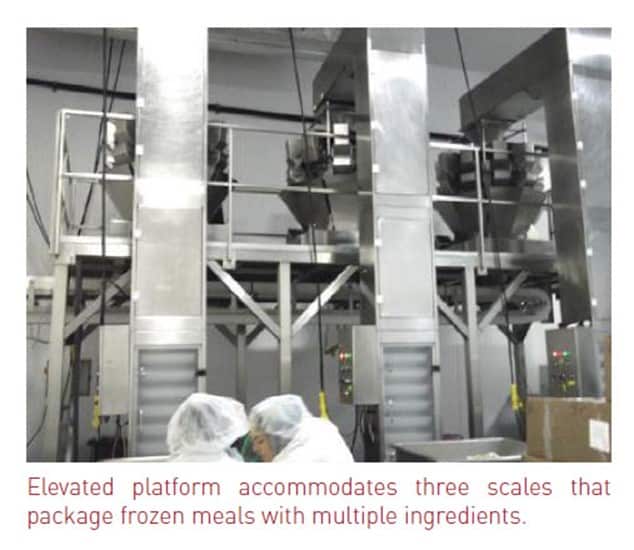 "For this particular product, that could mean three or four separate weighers," recalls Mike Weeks, President of APPA Fine Foods. "The manual line was employing upward of 40 people. We wanted to speed up the process and get that number closer to 10. I met with four companies and ultimately settled on [nVenia's OHLSON Brand] because they provided guarantees that many other suppliers were not willing to meet."
nVenia has a group of applications engineers that review every project to ensure that what they promise is indeed what they can deliver. They signed off on the feasibility of this solution and gave the project two thumbs up.
"This showed us from the beginning of our relationship that they were very professional and exceeded what other companies have generally offered," Weeks said. "To utilize our space best, we wanted the line elevated 10 ft. above the production room floor to allow working access below. Their engineering team designed a monolithic platform to accommodate three scales and extended the product delivery system to about 17 ft. in overall height. They also designed the software to allow for single or multiple-scale operation depending on which product or products were scheduled to run. After the Factory Acceptance Test, the machinery was delivered to Corona. Within 18 hours the entire system [was] . . . ready for production."
APPA hired a new tech to be trained specifically for this system. Weeks said, "His skills and ability have contributed greatly to the success of this project. [Reps from the OHLSON brand] also visit the plant frequently, and we work together to continuously improve the operation of the line."
The line has exceeded expectations. Weeks explained, saying, "The system was sold to produce 30 finished packages per minute. Through our mutual efforts, we are now operating at between 35 – 41 finished bags per minute. Before the OHLSON system, our manual operation peaked at 18 bags per minute.  We were also able to operate the system with 10 people as we hoped."
This article was previously published by Pack Expo, Show Daily, September 28th, 2015
---