HAMER Brand 1200 Pre-made Bag Hanger Replaces Competitors in Feed and Seed Plants
09/03/2015
---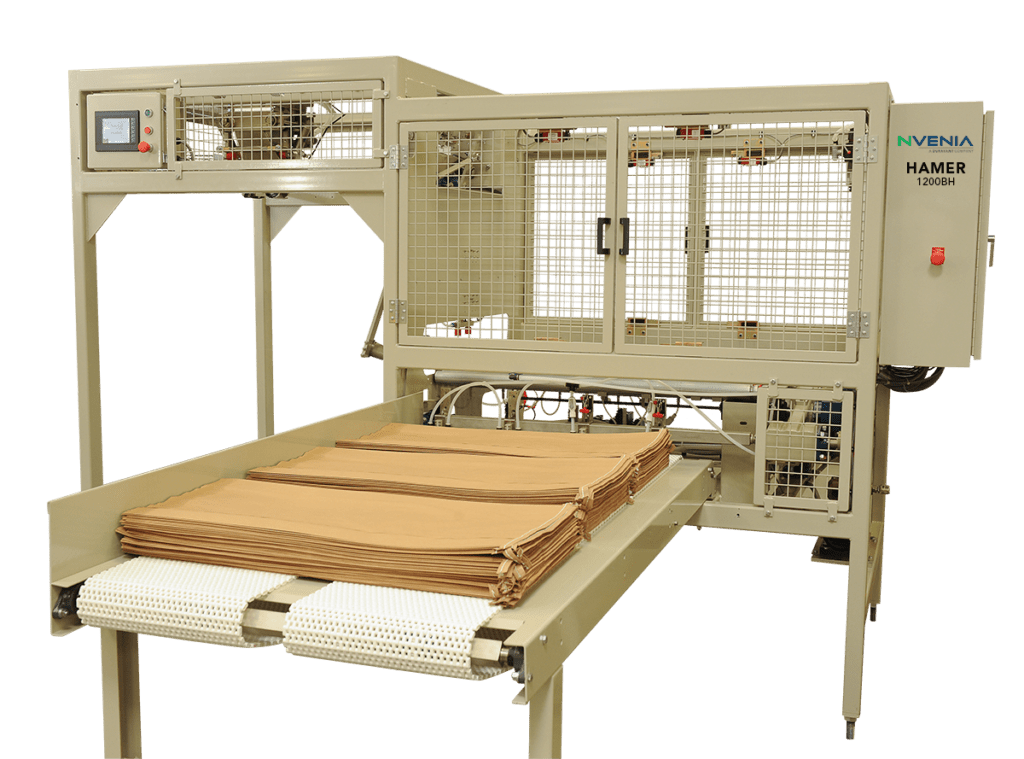 Since its introduction in 2013, nVenia's HAMER Brand 1200BH Pre-Made Bag Hanger has become the go-to solution for the Animal Feed, Agricultural Seed and dry solids packaging industries.
Often, it is replacing outdated designs or fully automatic bag placers that were too complex and too difficult to keep running.
This semi-automatic bag hanger allows customers to add automation to their production floor, reduce manual bagging labor and improve throughput by creating a consistent bagging pace, setting the bags by minute (BPM), hour or by day. Easy to use and easy to learn, this machine provides a fast return on investment.
The Model 1200BH was designed to support multi-wall kraft paper, poly-lined paper, poly woven laminated or poly bags – virtually all popular packaging options. Changeover from one type of bag to another takes just minutes, perfect for the multiple bag/product changes needed in most plants. With rates of 20 BPM, the Model 1200BH can meet production demands of most facilities.
Designed from the ground up to use very little compressed air, it is primarily motor-driven. A servo-controlled pick arm ensures consistent bag placement and SEW Eurodrive motors on the rest of the machine are long duty cycle for reduced maintenance.
Used as a stand-alone system, as part of a semi-automatic bagging line, or incorporated into robotic palletizing for a fully automatic line, the Model 1200BH has become the go-to solution for maximum flexibility packaging with a great return on investment.
---