Setting Standards in Produce Packaging Accuracy and Speed
01/11/2019
---
The nVenia HAMER Brand Model 355 Bagging and Weighing System sets the standard in produce packaging weight accuracy, speed, and bottom-line savings.
This advanced, highly dependable system automatically dispenses between 20 to 100 pounds of potatoes, onions, carrots, parsnips, walnuts and similar produce into cartons, or paper, mesh, burlap and poly bags. A production rate of up to 400 50lb bags per hour is typical.
Here's a quick look at the machine's operating sequence:
A produce packaging operator places the bag on a pneumatic clamp that sets a conveyor belt in motion. Product begins flowing into the bag. The belt speed slows when the bag is within two pounds of the desired weight. When the pre-determined weight is attained, the belt stops and the pneumatic clamp closes, automatically catching and holding in-flight product. The filled bag is then released onto the platform.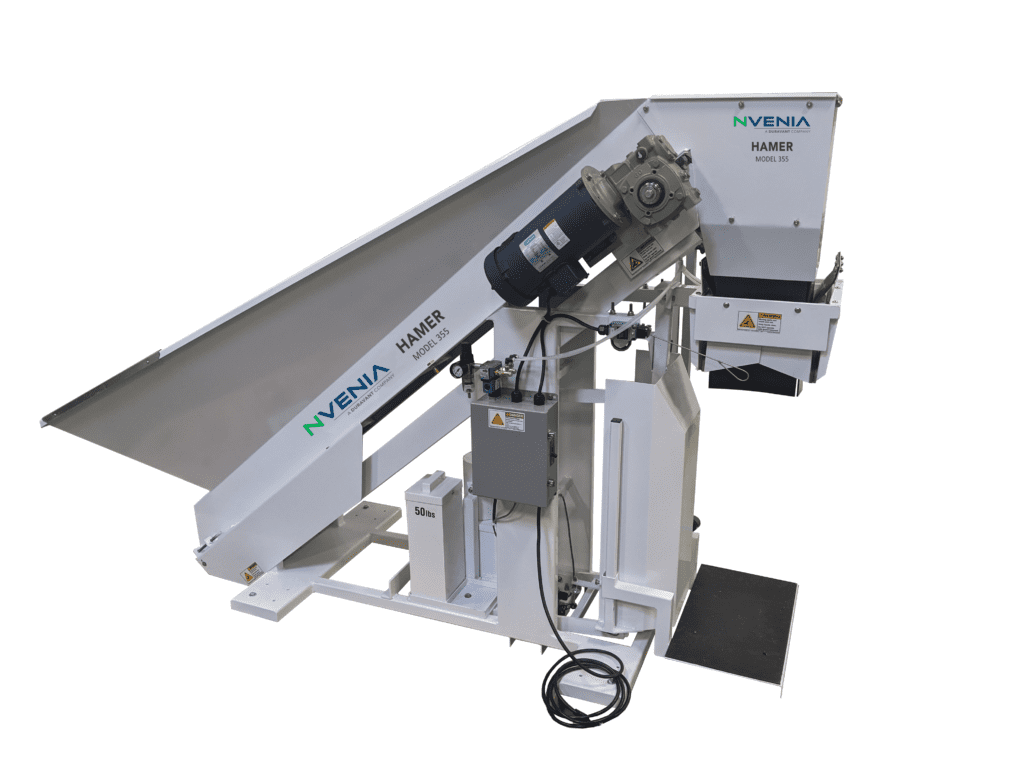 The Model 355 utilizes a dead weight scale. Weight changes can be made instantaneously. Each unit comes with four standard weight measurements: 20lb, 25lb, 44lb, and 50lb. Other weights are available by special order.
Designed for produce packaging, all product contact parts are rubber lined to prevent damage such as skinning, and its heavy-duty construction and reliable components ensure long-lasting service with minimum maintenance.
The entire system is caster-mounted for portability, accessibility for cleaning, and ease of maintenance.
One 355 system can produce the following bagging and weighing rates (product and operator dependent):
25lbs at 480-600 bags per hour
50lbs at 420-480 bags per hour
75lbs at 260-320 bags per hour
102lbs at 250-300 bags per hour
For more details, or a video demonstration, contact us today to learn more.
---