Double Hand Bagging Production Speeds with the Model 100GW Gross Weigh Bagging Scale
02/02/2018
---
The nVenia HAMER Brand Model 100GW gross weigh bagging scale offers low cost, simple operation, speed and accuracy for gross weigh bag filling of free flowing, granular products. Regularly in stock and ready to ship, the 100GW is the fastest way to significantly improve bagging line profitability.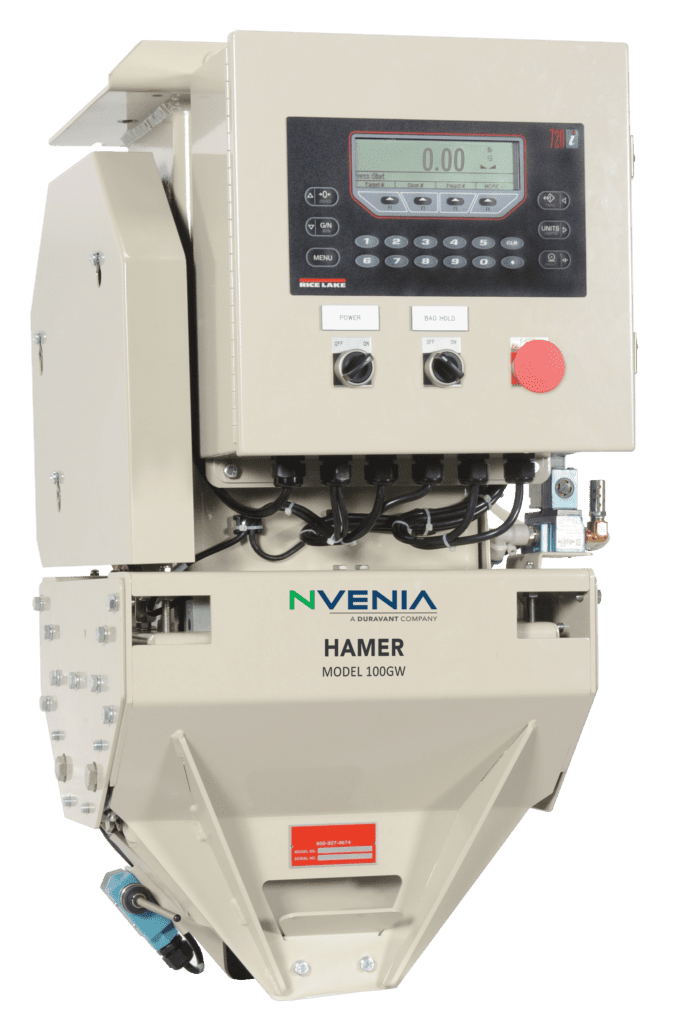 Speed
Fifty percent faster than competitor designs, our gross weigh scale runs at speeds of up to 16 bags per minute for higher productivity, double the usual 8 bag per minute rating on electronic gross weigh scales. The Model 100GW is well suited for a wide variety of applications including bird seed, animal feed, fertilizer and salt.
Accuracy
A dual load cell design provides highly accurate, repeatable bag filling and minimizes product give-away.
Low Cost
Available in a standard clamshell, center grip, or 304 stainless steel design, all models are competitively priced, allowing bagging operators to increase production at a reasonable cost.
Simple Operation
Ready to run right out of the box, the 100GW's simple plug-and-play design, and easy-to-use controls offer simple operation.
Regularly in stock and ready to ship for a quick increase in profit, the Model 100GW gross weigh scale leads its industry category in speed, accuracy and value.
---