Keep Your Industrial Bagging Scale Operating at Peak Performance
11/30/2018
---
Your bagging scale is your company's profit center. Accurately measuring your products, reducing product giveaway, and keeping the bagging scale running smoothly directly impacts your bottom line. Here are some tips to help you maximize scale performance: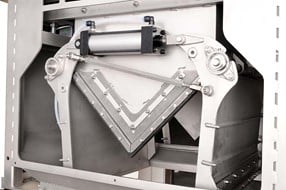 Keep it Clean
Your Model 600NW/200NW net weigh scales from nVenia's HAMER Brand have easy lift-off sides for fast, tool-less access. First, put the scale in clean-out mode with the weigh bucket doors open. Using a compressed air gun, blow off any accumulated materials on the weigh bucket, weigh frame and in the gravity feed or belt feed sections. Do this at shift start and shift end to keep material from building up. Use a putty knife to remove built-up materials.
Run the Scale Empty
You would be surprised how many companies end their shift and leave a scale and scale hopper full of material. Run both empty to keep material from building up.
Calibrate
Calibrate the system with certified test weights at least twice a year.
Bearings
Grease bearings to keep them operating smoothly. You should also monitor gaskets and seals, replacing those that are worn.
Pneumatics
Review pneumatics annually. Replace or rebuild worn air cylinders or values. Our team has pre-built service and spare parts kits for most machines.
Flow
Make sure flow controls are properly set. Adjust the feed gate (on gravity feed design) to meet material flow requirements to maximize accuracy. Different bulk density materials flow differently. Be sure your operators know how to adjust feed gates to maximize fill accuracy.
These simple actions help you get the most out of your scale investment and watch your company's bottom line profitability improve.
For more preventive maintenance tips and information on maintaining and servicing your bagging equipment, contact our support team at Support@SupportPro.Pro
---