The Future is Now: Robotic Palletizing
03/11/2019
---
Robotic Palletizing may be relatively new but the history of collaborations and solutions isn't. The nVenia team has been an innovator in the packaging industry for more than a century.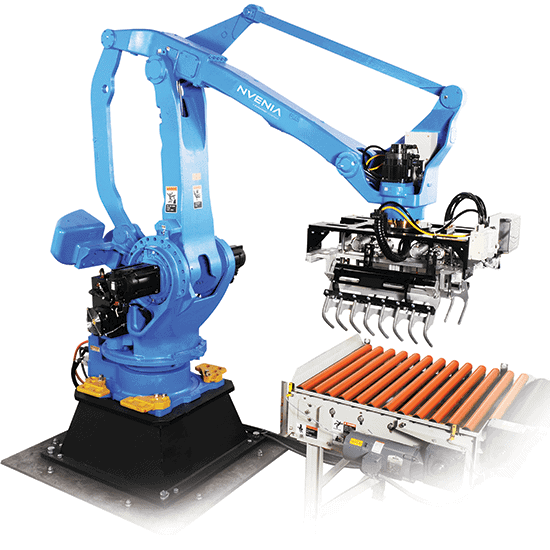 Yaskawa is a global manufacturer of voltage-variable frequency drives, servo motors, machine controllers and industrial robots. Together, our companies have worked together expertly to offer palletizing robots that have no equal in the industry.

With the economy as it is, customers are having a difficult time hiring people to manually palletize products. It is very difficult work and it is hard to find people that can physically handle this type of repetitive motion.
Robots, of course, can handle all the repetitive motion needed hour after hour without missing a beat. Their movements on multiple axes give them all the capabilities necessary to stack quickly and precisely in any pattern they are programmed for.
All in all, you get an impressive productivity boost from this automated palletizing system. To maximize its effect, you can add a pallet dispenser, slip sheet dispenser and automatic full pallet transfer conveyor. An empty pallet with or without slip sheets is then fed to the stacking area. Next, bags are picked and stacked on the pallet. When complete, the pallet is transferred to in-line stretch wrapping or stretch hooding equipment. It's soon loaded and on its way to the buyer.
The advantages that can keep you competitive in your industry just go on and on. Without a doubt, robots are here to stay.
Contact us today to get your operation rolling with robotic palletizing.
---