Flour Producer Modernizes Milling Operations with FISCHBEIN Brand Equipment
06/09/2017
---
Mexico's leading producer of flour products recently modernized their plants by converting their milling operations to using nVenia's FISCHBEIN Brand Model 100-2 Two Needle Sew Head. Backed by more than a century of craftsmanship, the Model 100-2 plain sew head produces two perfect, parallel, offset stitch lines that create an attractive, secure, sift resistant bag closure, making it ideal for flour bagging applications.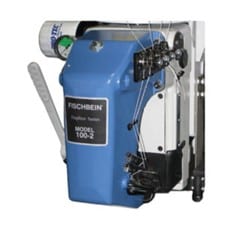 Milling plant production personnel report that with the Model 100-2 they now have minimal product sifting from the bag sew line. Less product giveaway means less money lost on the plant floor, in clean up, during shipping, and on the end user shelves. The staggered two needle stitch helps block the surface area where sifting normally occurs more efficiently than a single needle. With the benefit of a stronger twin sew line they have stopped using the slower fold-over bag sewing technique.
Precision rotational parts allow for adjustable operating speeds from 35 to 45 feet per minute, which allows for more flexibility in any packaging line. A pressurized, self-lubricating system protects moving parts and ensures maximum productivity with low maintenance. Less maintenance equates to less down time and more profit in the bag.
The Model 100-2 is featured on our cost-effective Model 400 Pro2 for manual lines, and on the 400 NS2 for semi/automated bagging lines. It can be used on virtually every type of open mouth bag including multi wall paper, woven and laminated woven polypropylene, and jute bags.

---