Maximize Robotic Bag Palletizing Productivity with EasyPic
10/05/2015
---
Next generation robotic systems offer significant improvements and new technology, including the ability to maximize robotic bag palletizing productivity with nVenia's HAMER Brand.
Our leadership of robotic palletizing solutions comes in part due to our exclusive operator control or HMI – EasyPic. This simple operator HMI allows for easy adjustments to pre-programmed pallet configurations or to add/adjust pallet stacks as needed during operation.
The HAMER Brand Robotic Palletizer allows adjustments to be done on the fly and in less than 5 minutes and does not require a laptop or other PC to support. This makes operation easy for any level of sophistication.
Uptime and speed are important in any bagging operation. The HAMER Brand's EasyPic operator HMI is accessed via operator touchscreen and uses clear, easy to understand programming direction.
It also does not require that the operator use the teach pendant, which can be more complicated. Our software empowers operators to learn and manage their palletizing operation, keep efficiency high and productivity at a maximum.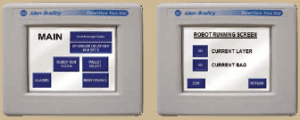 ---